About the FTI
The IUPAT and its signatory employers established the FTI to provide ongoing education and training for all our union members. Our mission is to continue to set the standard of excellence in the many trades our members represent. With this goal in mind, FTI curriculum and training centers conststantly evolve to remain at the cutting edge of our trades.
What's New?
New span of bridge re-opens after destroyed by an 18-wheeler that collided with the overhead structure.
********************************
Energy Performance Of Air Barrier Systems
Building Envelopes Research, Oak Ridge National Laboratory

Infiltration and exfiltration account for 20 to 30 percent of the cooling and heating loads in commercial and residential buildings. Because the efficacy of air barriers is unknown, this uncertainty has hindered their wider use, especially in retrofit applications, and has delayed research to improve air barrier technologies.
The DoE has established eight climate zones to help classify construction requirements within the U.S. The zones are:
Hot-Humid (1, 2A and 3A)

Mixed-Humid (4A and 3A)

Hot Dry (3B)

Mixed Dry (4B dry)

Cold (5 and 6)

Very Cold (7)

Subarctic (8) and

Marine (3 and 4)
Read the full study and results of the use of air barriers in a test facility conducted in collaboration with the Oak Ridge National Laboratory (ORNL), the Air Barrier Association of America (ABAA), 12 of its members, (BASF, Carlisle, CertainTeed, DuPont, Grace Construction, Henry, Huber Engineered Woods, Owens Corning, Pactiv, Sto, Tremco, and WR Meadows) and Syracuse University. This work was conducted with support from the U.S. Department of Energy's Buildings Technology Office.
Video Updates
FTI Learning Management System (LMS)
The Finishing Trades Institute (FTI) Learning Management System (LMS) website is an online learning portal designed in partnership with the K-Learning Group (a Kelly Company), a leading provider of online training systems for unions and associations. The FTI LMS is a secure web-based software program for the administration, documentation, tracking, and reporting of training programs, classroom and online events, e-learning programs, and training content. It is an accessible way of providing apprenticeship training course materials to FTI LMS users.
U.S. EPA Renovation, Repair, and Painting Program
U.S. EPA RRP Training Update & Data
EPA's 2008 Lead-Based Paint Renovation, Repair and Painting (RRP) Rule became fully effective on April 22, 2010 and was amended in 2010 and 2011. The rule requires workers to be certified and trained in the use of lead-safe work practices, and requires renovation, repair, and painting firms to be EPA-certified.The EPA has provided some data regarding the effectiveness of the Rule as it pertains to the Blood Lead Levels (BLL) of children throughout the United States. Read the report from the Center for Disease Control (CDC) on the Number of Children Tested and Confirmed EBLLs by State, Year, and BLL Group, Children < 72 Months Old.
Recent numbers on EPA Accredited RRP Training Providers (U.S. EPA data as of 11-17-13) regarding National RRP Training and Certification:
617 RRP accredited trainers (includes RRP and Dust Sampling Technicians)
132,501 RRP Certified firms (includes Federal 110,615a) and State (21,886)
483,654 RRP Certified Renovators (individuals)
Re-accreditation for Training Providers occurs every 4 years and requires application and renewal of all training locations, classroom and equipment documentation, as well as the update and renewal of all Principle Instructors. Thee highlighted links provide the answers to many questions and contain the application as well as all training materials.
For more information on Lead; the RRP Program, or becoming an RRP Training Provider, visit the EPA website. Find your EPA Regional Lead Coordinator.
IUPAT 101
Click the picture below to play the lesson and learn about the IUPAT structure, funds, departments, and programs.
Programs of Study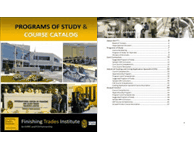 Click here to read the Programs of Study and Course Catalog

Click here for additional information on the FTI courses

Curriculum Updates
The COR 1002: Survival of the Fittest eLearning is now available on the LMS.
The scope of this course focuses on the key roles that must be played by the Union; its contractors, and most of all, its rank and file workers.
The course is designed to provide apprentices and journey workers with vital skills, attitudes and behavior necessary to compete in today's industry. This highly interactive course aims to provoke and stimulate training. Student discussions will focus on subjects such as market share, absenteeism, harassment, integrity, competition, supervision, and money management.
Features Mark Breslin's "Survival of the Fittest" workbook and leadership principles.

____________________________
LMS System Security Note
System Timeout: If, while using the LMS, you do not refresh or request a new page within the 10-minute time-out period, the session ends and the user will be required to log back in.