About the FTI
The IUPAT and its signatory employers established the FTI to provide ongoing education and training for all our union members. Our mission is to continue to set the standard of excellence in the many trades our members represent. With this goal in mind, FTI curriculum and training centers conststantly evolve to remain at the cutting edge of our trades.
Leaning Green
5 Ways to get a Leg up on LEED

Experts, Experts Everywhere….
Today's building industry is bursting with more than 180,000 LEED Accredited Professionals, tens of thousands of member firms, and an expanding family of LEED rating systems.
Teams with a track record of successful LEED projects are on cruise control, and many clients are savvier about requests for proposals and qualifications for repeat work.
The minimum-energy Olympic Athlete and Operations Center in Beijing was converted to a mixed-used facility and kindergarten after the 2008 Summer Olympics.

Educate

Participate


Verify

Evaluate

Balance

Read the full article on Robert J. Kobet uses his experiences as an international consultant in the fleld of sustainable design and development, high-performance green buildings, LEED consulting, and environmental education to help his clients gain the knowledge and practices to successfully complete a LEED project.
Educating clients about their role in the process is a critical first step to achieving the highest possible LEED score.

Video Updates
FTI Learning Management System (LMS)
The Finishing Trades Institute (FTI) Learning Management System (LMS) website is an online learning portal designed in partnership with the K-Learning Group (a Kelly Company), a leading provider of online training systems for unions and associations. The FTI LMS is a secure web-based software program for the administration, documentation, tracking, and reporting of training programs, classroom and online events, e-learning programs, and training content. It is an accessible way of providing apprenticeship training course materials to FTI LMS users.
Avoiding Flooring Failures
10 Things You Need to Know
Durability + Design: The Journal of Architectural Coatings ©2014 Technology Publishing Company
Surface delamination and blisters / Adhesives that won't stick / Discolored coatings
Despite increased awareness of the problems, floor finishes on concrete slabs fail all too often. However, we have learned a lot over the last 10 years, and thoughtful design and construction practices can go a long way toward limiting the risk of moisture-related failures. Planning for how you will address high moisture levels is crucial for every concrete flooring project.
Here we offer 10 things every design and construction professional should know to head off flooring failures:
1. Concrete Mix Design Will Affect Moisture Content.
2. Environmental Moisture Must Be Addressed.
3. Moisture Sensitivity of Floor Finishes Varies.
4. Construction Schedules Will Influence Floor Installation.
5. Finishing and Curing Practices Are Important.
6. Proper Moisture Testing Can Be Challenging.
7. It's Critical to Have a Backup Plan for Dealing with Moisture.
8. Moisture Mitigation Materials Must Be Well-Vetted.
9. Proper Moisture Mitigation is Expensive and Time-Consuming.
10. The Options are Improving, Though Maybe Not as Soon as You'd Like.
Click here to read the full article by
Emily R. Hopps, P.E., Senior Project Manager, Simpson Gumpertz & Heger Inc. and Peter E. Nelson, P.E., Senior Principal, Simpson Gumpertz & Heger Inc.
IUPAT 101
Click the picture below to play the lesson and learn about the IUPAT structure, funds, departments, and programs.
Programs of Study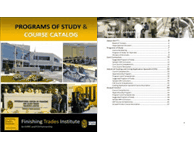 Click here to read the Programs of Study and Course Catalog

Click here for additional information on the FTI courses

Curriculum Updates
The COR 1002: Survival of the Fittest eLearning is now available on the LMS.
The scope of this course focuses on the key roles that must be played by the Union; its contractors, and most of all, its rank and file workers.
The course is designed to provide apprentices and journey workers with vital skills, attitudes and behavior necessary to compete in today's industry. This highly interactive course aims to provoke and stimulate training. Student discussions will focus on subjects such as market share, absenteeism, harassment, integrity, competition, supervision, and money management.
Features Mark Breslin's "Survival of the Fittest" workbook and leadership principles.

____________________________
LMS System Security Note
System Timeout: If, while using the LMS, you do not refresh or request a new page within the 10-minute time-out period, the session ends and the user will be required to log back in.