Quick Links
Click the hyperlinks to view the information: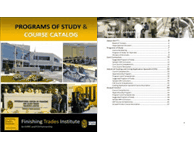 OSHA Construction FY 2013

Most Frequently Cited VIOLATIONS

OSHA Federal StandardsOctober 1, 2012 - September 30, 2013
Click on the picture below to view a PowerPoint presentation that presents the number of serious violations of Subpart & Standard 1926 in construction.
(Click the picture to go to the OSHA website, scroll down to "Most Frequently Cited" to find the link to a PowerPoint to download the file.)
LMS SystemTimeout (Security Note)
The LMS has a 10-minute timeout period. If you do not refresh or request a new page within the 10-minute period, the session ends and you will be required to log back in.
Video Updates
FTI Learning Management System (LMS)
The Finishing Trades Institute (FTI) Learning Management System (LMS) website is an online learning portal designed in partnership with the K-Learning Group (a Kelly Company), a leading provider of online training systems for unions and associations. The FTI LMS is a secure web-based software program for the administration, documentation, tracking, and reporting of training programs, classroom and online events, e-learning programs, and training content. It is an accessible way of providing apprenticeship training course materials to FTI LMS users.
Building Envelope

Assessing Energy and Moisture Effects of EIFS

March 2014 D+D

A new studey simulating performance in either U.S. climate zones finds good results for most systems.
Article by: Andre Desjarlais of Oak Ridge National Laboratory and David Johnston of EIFS Industry Members Association

New energy codes and efficiency measures have been sanctioned for EIFS in recent years but there has been little data to use to distinguish among various tuypes of EIFS systems and their moisture and thermal performance in different climates. As a result, over the past 10 years, the Oak Ridge National Laboratory (ORNL) and the EIFS Industry Members Association (EIMA) have been working collaboratively to address this gap. Continue reading this article to learn more about these two organizations collaborating to peform experiments, create simulations and collect data to determine the effectiveness of EIFS and how it measures up to the simple brick wall system.
Click here to read the full article and see what ORNL and EIMA discovered..
Aworker applies a template for the finish coat to replicate theappearance of brick on an EIFS-clad structure. (Photo courtesy of Sto Corporation.)
Stay Connected
Click the logos to view FTI's social media links.
D&D Paint Article

Hue Knew?
Why Building Color Matters
(May 27, 2014)

Does a choice of color really influence things like mood, spending, and health? Jill Pilaroscia, founder of Colour Studio (1979) shares her thoughts, experiences and research in the study of color in the architecture.

Read on to discover the differences a splash of color may make!

Which has a greater presence?

This?
or this?
Read the full article from Durability + Design's Paint and Coatings Industry News.


Updated: IUPAT 101
Click the picture below to play the lesson and learn about the IUPAT structure, funds, departments, and programs.