Quick Links
Click the hyperlinks to view the information: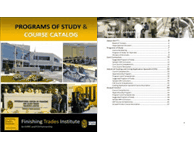 Paint & Coatings Industry News

The DOL Reports a Rise in On-the-Job Latino and Contractor Deaths in 2013

PaintSquare, Health & Safety
September 17, 2014
2013 saw a 7% increase in the number of deaths among Hispanic and Latino workers on the job despite an overall decline in fatal work injuries in the United States. This preliminary release of data by the Department of Labor also reports an increase in the number of contractor deaths; numbers that typically increase when final data becomes available in the spring of 2015.
(Click the picture to go to the OSHA website, scroll down to "Most Frequently Cited" to find the link to a PowerPoint to download the file.)
Construction deaths topped the goods-producing sector in 2013. Specialty trade contractors accounted for 476 of the 796 deaths.
Read the full article to learn more on the key findings, industry highlights and types of fatal events that are accounted for in the report. The article will also reveal the characteristics of the workers and contractors who were killed and some geographical data on where these fatalities have taken place.
LMS SystemTimeout (Security Note)
The LMS has a 10-minute timeout period. If you do not refresh or request a new page within the 10-minute period, the session ends and you will be required to log back in.
Video Updates
FTI Learning Management System (LMS)
The Finishing Trades Institute (FTI) Learning Management System (LMS) website is an online learning portal designed in partnership with the K-Learning Group (a Kelly Company), a leading provider of online training systems for unions and associations. The FTI LMS is a secure web-based software program for the administration, documentation, tracking, and reporting of training programs, classroom and online events, e-learning programs, and training content. It is an accessible way of providing apprenticeship training course materials to FTI LMS users.
In the News - Confined Space H&S Violation

"Spit and Sniff?" - Safe Test for Entering Confined Space?

September 2014 PaintSquare News
A Texas worker was asphyxiated by hydrogen sulfide as he lowered himself into a railcar to perfrom industrial cleaning.
A total penalty of $10,800 was issued by the courts to Austin Industrial for OSHA citations that played a role in the death of 31 year old Jaime Godines. Godines, an industrial worker, working for Austin Industrial under a contract at the Lubrizol plant in Deer Park, TX, died after entering the railcar which is considered a permit required confined space and requires respiratory protection. In question are the cleaning process, the lack of confined-space permit, and failure to properly identify and evaluate repiratory hazards in the workplace and train employees working with hazardous chemicals.
Click here to read the full article and the circumstances that lead to the worker's death.
Proper identification of chemical hazards and proper respiratory protection are necessary to prevent health hazards when working in confined spaces, such as a railcar, tank car or other enclosed spaces.
(Photo courtesy of railroadcourses.com.)
Stay Connected
Click the logos to view FTI's social media links.
PaintSquare News

OSHA Proposes Reducing Beryllium PEL to as low as 0.1mg per cubic meter of air
(September 11, 2014)
Beryllium (Be) is a chemical element that has long been used to improve the physical poperties when added as an alloying element to aluminum, copper, iron and nickel. Tools made of beryllium copper alloys are strong and do not spark when they strike a steel surface.
Beryllium-containing dusts are highly toxic and can cause a chronic, life-threatening disease called "Berylliosis". Stringent use of dust control equipment and industrial controls are required during tasks such as abrasive blasting to protect the worker from exposure to the dust.
Chronic beryllium disease, the result of abnormally high levels of exposure, can appear years after the exposure, and is characterized by difficulty breathing, exhaustion, heart disease, and severe weight loss. Some people also experience skin problems such as rashes as a result of exposure.
After nearly 12 years in the pipeline, a federal plan to reduce beryllium exposure in the workplace has moved to the White House for final review.
On Friday (Sept. 5), the Occupational Safety and Health Administration submitted its proposed rule on Occupational Exposure to Beryllium to the White House Office of Management and Budget (OMB). OSHA is still enforcing beryllium limits set in 1971.
Read the full article from PaintSquare News.
Updated: IUPAT 101
Click the picture below to play the lesson and learn about the IUPAT structure, funds, departments, and programs.