Quick Links
Click the hyperlinks to view the information: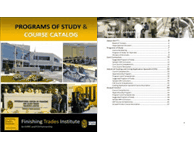 OSHA Construction FY 2013

Most Frequently Cited VIOLATIONS

OSHA Federal StandardsOctober 1, 2012 - September 30, 2013
Click on the picture below to view a PowerPoint presentation that presents the number of serious violations of Subpart & Standard 1926 in construction.
(Click the picture to go to the OSHA website, scroll down to "Most Frequently Cited" to find the link to a PowerPoint to download the file.)
LMS SystemTimeout (Security Note)
The LMS has a 10-minute timeout period. If you do not refresh or request a new page within the 10-minute period, the session ends and you will be required to log back in.
Video Updates
FTI Learning Management System (LMS)
The Finishing Trades Institute (FTI) Learning Management System (LMS) website is an online learning portal designed in partnership with the K-Learning Group (a Kelly Company), a leading provider of online training systems for unions and associations. The FTI LMS is a secure web-based software program for the administration, documentation, tracking, and reporting of training programs, classroom and online events, e-learning programs, and training content. It is an accessible way of providing apprenticeship training course materials to FTI LMS users.
April is EARTH Month!

The EPA wants you to Take Action and Spread the Word!

April 22nd is Earth DAY, but he EPA wants you to celebrate with them all MONTH!
Check out the EPA's webpage on getting the message out. The EPA has listed many ways you can take action yourself and spread the word to your friends and family. Try one or many, but either way, let's all #ActOnClimate!
Climate change is a serious threat to the health and welfare of American families. EPA is taking common-sense action to reduce carbon pollution and promote a cleaner energy economy. Meanwhile, many families, communities, businesses, and states are taking action to reduce carbon pollution.
Tip: A well-maintained car is more fuel-efficient, produces less carbon pollution and keeps you safe. Keeping your car in shape includes keeping your engine properly tuned, using the recommended grade of motor oil, and replacing clogged air filters. Get regular tune-ups, follow the manufacturer's maintenance schedule (which can be found in your owner's manual), and use the recommended grade of motor oil.
Click here to learn more about Earth Day from the EPA.
Stay Connected
Click the logos to view FTI's social media links.
Curriculum Updates
The GLZ 5418: Unitized Glazing Systems Installation eLearning is now available on the LMS.